Hey y'all! I intended for this post to JUST be pictures of the little pillow I made for my little bench in my breakfast nook, but realized when gathering up the pictures that I haven't FORMALLY introduced allyall to the newly painted table, my super-find of a little reclaimed wood bench or really the nook in general. So here goes! My project over the last week (more-or-less) has been to turn our old, jail-cell breakfast area…
Into a spot where we'd actually like to hang out…
Holla!
OK. The first step was putting up the curtains. We used the same drapery rods here as we did on the other side of the room – the Kvartal system from Ikea. Again, it was a giant pain in the rear to put 'em up, although it IS cool that there is a corner piece so the curtains 'meet up' in the corner. This time around, I treated the rods with this Dupont Teflon Silicone Lubricant I got from Lowe's…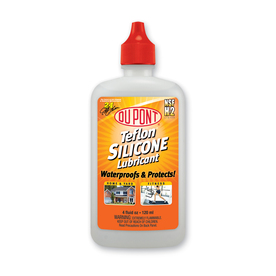 It really helps the curtains move better – and it ALSO comes in an aerosol, but since I have to go back and treat the rods we put up a week or two ago, I thought the liquid + cloth application would be a lot less messy on already installed drapes! I found it in the same section as WD-40. Thanks for the suggestion Evie!
As soon as the drapes were up I hauled my little table on in to the corner. This was a purely accidental craigslist find – meaning it wasn't even ON craigslist, just 'there' when I went to pick up my ACTUAL craigslist find! I really, really wanted a round table in the spot.
I had been stalking THIS table at a local antique shop…
This is a GREAT table – super solid with a really nice, thick top. But at $250 it was a bit more than I wanted to spend and I wasn't sure I wanted the full on farmhouse vibe with the wood top/painted legs. We already have that going on with the sideboard in the poker room! At $40, this little guy had the same vibe. And, well, forty bucks, y'all!
The color was really nice – a pretty, not TOO bright blue. The sides fold down, which wasn't ideal, and I realized when I got it home that I hadn't really looked at the leg placement. See how the chair on the right is sort of angled? That's because the legs are too close together for me to push the chair in on the sides where the legs are! Ah. Creative thought necessary for the chair arrangement.
I almost decided to move the table up to our bedroom where the predominant color is blue. We have two wing chairs in the bedroom and I thought this might make a nice table for between them. That idea REALLY stressed Mr. Bug out, though. He's of the opinion that the seven or so tables I've purchased in the last four years is sufficient for our needs. Somewhat seeing the validity of his position, I decided to try to make the table work for the breakfast area, after all from craigslist it had come into our lives and to through craigslist it could leave, right?
It needed a paint job. I went with a 50/50 mix of Annie Sloan French Linen and Old White. I mostly did the mix to stretch out my dwindling can of French Linen, but I also sort of wanted the corner to stay a bit lighter and the full on strength is a bit dark.
The results. Much better – and let me be the nine millionth person to sing the praises of this chalk paint! It goes on SO well, dries so fast. It's really worth the price! I have one layer of clear wax over the whole table and will get two more layers on over the next few days.
After the paint job was done, it was time to move on to the chairs. I really, really wanted to find some super comfy, upholstered chairs for the corner. Mr. Bug likes to use his computer at a table a lot, so I wanted to make a nice nest for him.
I considered a variety of new chairs, thinking I really needed a matched pair and wanting something in the grey to linen color family (World Market again, folks. It's only 3 miles away.) I also checked out Ikea and Home Goods, but I didn't really want a parsons/armless chair. I'd almost decided on some nice grey wicker chairs from World Market, when I decided in a flash of inspiration to give my pink cane chairs a try.
I'd bought these in Minneapolis, thinking to recover them, but really liked how they pick up the colors in the fireplace. But in their first spot in the family room, it was just too much PINK in one spot!
I sort of felt like the whole room was flipping over to the left!
Hauling them into the breakfast nook makes me super happy – they provide a bit of cohesion to the room, since the fireplace is on the opposite wall, but by moving them away from the fireplace I broke up the earthy terra cotta vibe I had going on and didn't love. Also, I sort of wanted two mismatched chairs in that spot.
Cushy chairs in place, it was time to deal with the sides of the table with those too-close-together legs. I didn't mind so much that the chair in the corner couldn't get pushed in all the way, but it drove me NUTS that I couldn't push in the one on the other side! It felt like there was a chair sitting in the middle of the room. I came to the eventual conclusion that what I needed was a bench. Back to craigslist.
I initially searched for piano and/or sewing benches – those seem pretty easy to find. And I DID get a great old bench that I have some ideas on, but most of those types of benches are a bit wider and still stuck out too far into the room. And I really wanted something a bit more unfinished and primitive looking.
I'd nearly decided that nothing would do but the 'Aged Wood Bench' from World Market
But at $150, it was a bit on the pricey side. I printed off a coupon and decided to wait it out. And lo and behold, while poking about the Frisco Mercantile, a totally fun collection of booths with antiques, repurposed and new stuff, I came across this little guy – he's newly constructed from reclaimed wood. Perfect! And only twenty bucks!
I rushed him right home. Mr. Bug (of course) thought I was insane. "Isn't he a little….worn?" my sweet husband asked, as he donned protective gloves in order to handle our new acquisition without damaging his hands.
OK, yeah. There is a splinter issue. And that reddish stain towards the left? That'll come off on your clothes.
I clearly needed a cushion of some sort!
Initially I thought I'd reuse some 3″ foam from the window seat cushions we had in Minneapolis. I was super excited to reuse the foam, since it's so pricey! But when I put the cushion on the bench, I didn't like how structured it was. Plus, it covered up the surface TOO much – it just looked like an upholstered bench with REALLY worn legs!
Then I thought I could somehow reuse the foam from the seat covers that were on the dining chairs that had been with the previous nook-table. I toyed with the idea of making two cushions, strapping them on, using leather… SOMETHING cool, but I really thought they were TOO thin – not very comfy, either! It just looked too chintzy.
Finally I remembered that I had a cushion that had been made from old pillows and lived at the end of our bed in Minneapolis.
I liked it much more. Without a box-style cover, it would be perfectly unstructured, but it was still thick enough to be comfy!
Now for the pillow cover. I've been stalking the Ursula pillow covers at Ikea – I love the two layer, tied on look!
Plus they'd be really easy to make and I already had the perfect material in my stash!
First I had to adjust the cushion size. The insert was one I made from two smaller, rectangular Ikea pillows. I just cut off each end, basted together and fluffed the stuffing so it acted like one pillow. The cushion size was around 42″ long x 14″ deep and my bench was 36″ x 11″.
I cut off one end, pulled out some stuffing and shortened to 36″. I didn't really mess with the depth, as I was stuffing into a new case.
I suspect the Ikea pillow cover is a faker-cover, with the striped fabric only at the end where it shows. I wanted to make a full striped cover – easier than trying to graft in a pillow – dickie. Do they still make those? Dickies? Fake turtlenecks?
I was going for a rough-hewn vibe, so I made my striped cover by just cutting a piece of fabric, folding in half, serging two sides, stuffing the pillow in and serging the last side. Since my bench was 36″ x 11″ and my cushion was around 4″ thick in the middle, I cut the fabric 37″ long, leaving 1″ for seam allowances and 28″ wide – 1″ for seam allowances and 5″ for depth (11″ side A + 11″ side B = 22″ + 1″ seam allowance = 23″ + 5 inches for depth.) It was a pretty plump pillow – I had to removed more stuffing, but it's perfect on the bench. Not too wimpy and floppy.
I used dropcloth fabric for the outer pillow, utilizing the already finished edge for my exposed end. I cut a piece of fabric that was 36.5″ long by about 29.5″ wide – I wanted the outer case to be a bit looser for ease of ramming the striped pillow inside it!
For the ties, I trimmed some of the hem off scraps from the dropcloth. The dropcloth is hemmed at the factory with a double fold hem, so I just trimmed real close and serged the ends of my new ties!
To attach, I pinned to the inside of the case and ran a line of stitching all the way around the end, doubling back and forth over the ties a few times to make it nice and secure.
I love how it turned out! It shows off just enough of the bench!
What a cute rump it has!
Oh! The chair in the corner is one of the wood ones that was originally there – I painted it with full strength Annie Sloan French Linen – I didn't want it to completely match the table! I still need to do another coat of pain and make a little seat slip cover for it – mostly for comfort. These wood chairs are HARD!
Let's do another before and after – the long view – just to make me happy, shall we?
I broke down and got a table runner – just for a month or so until the paint and wax is fully cured and not so delicate!
Yay! I really love the little breakfast nook now! It's so cozy and comfortable and doesn't feel like an afterthought!
###
I linked up at…